Sarah Beauvery Joguet, President of MaviJaan, the first independent French film distribution company specializing in Turkish cinema and TV series; explained the company's history and goals, the effects of the pandemic and the cultural interaction between the two countries to SineBlog.
Who is Sarah Beauvery Joguet?

Sarah Beauvery Joguet was born on the 12th of August 1977 in La Roche Sur Yon in France. While having Baccalaureate level of Literary and Plastic Arts education, she had to abandon her studies in 1999. She got several jobs opposed to her creative abilities. She experienced a difficult period consisting many failures and faced a precarious situation for many years. She never gave up on her passion for music and cinema, and discovered Indian cinema in 2009. Fascinated by this art which combinates two of her passions, Indian cinema became a way of escaping to the tough reality.

In 2012, she had a click for Indian actor Salman KHAN. This click incited her to take concrete actions for Indian cinema and led her life in a brand-new direction. Frustrated of not having access to Indian movies in theaters outside of Paris, she founded the Bollycine association in 2012 with Lydie Vessella. The purpose was to gain the trust of the exhibitors and schedule the Indian movies with them in partnership with French distributor AANNA FILMS. BOLLYCINE has supported the promotion thanks to passionate volunteer teams from all over France.

In the same time in 2013, Sarah started working as a web designer, and managed public relations in France for Being Human Clothing Europe, Salman Khan's ethical brand. In 2018, she became a freelancer as a social media and communication specialist. After many years of engagement with Indian Cinema, she discovered Turkish films and series industry. Impressed by the quality and talents of productions, she now manages her own film distribution company MAVİJAAN to support and present this film industry in France. Completely self-taught, she acts with her heart. Her passion and her instincts are her only driving force of work to make her dreams come true and to introduce this cultural diversity.
– Where did the idea of Mavijaan come from? And why Turkish cinema? You know since Turkish cinema is not a large-scale industry, it doesn't seem like a choice that can be much profitable(!)?
Since 2012, I manage Bollycine France, a French national association which supports Indian movies in French theatres. Bollycine has encouraged French theatres' exhibitors to schedule / support Indian movies all over France and we have developed our own network and different marketing ways. Bollycine has supported many Indian movies in partnership with French distributors specialised in Indian cinema. All over France, we were all volunteers guided by our determination to open a way for Indian cinema in our territory.
But since 2017, I have lost the passion and the interest in this cinema. I was so frustrated and disappointed by many points:
– The misunderstanding of Indian producers on French market. It was so difficult to explain French market is very special and needs to be worked differently to reach French audience, outside community. They have never listened.
– We were working on simultaneous releases so it was no possible to watch movie before release.
So, these last years, we have supported bad movies. When you give all your energy in a project and you see your efforts are destroyed, you lose your passion. You play your credibility with exhibitors and you can lose them. Realize to not be able to build my dreams around this cinema was really difficult… It took me many months to admit it. I needed something different, more real, more depth.
Turkish film industry is happened at this point thanks to Netflix. One night, "Sadece Sen" has been suggested to me… And from this moment, it became a real curiosity… I loved the direction: beautiful, simple and poetic… This interpretation so real, so close, this background score (music) like a full character, these emotions, this light, this language almost similar to Indian in some aspects… I liked so much this movie…
And after many months, I decided to watch the dizi "Kurt Seyit Ve Sura"… I was intrigued. And from this one, all has changed…… Wow, so Turkey was able to make such production? Like many French people, I had prejudices towards Turkey and I didn't know what was the place of dizi industry all over the world…. But this production impressed me so much… The direction, interpretation, historical elements, dialogues… All was outstanding for me…
I had become addicted… Unfortunately, catalogue was very limited on French Netflix, even today… So I searched on internet to watch something… I found some English fans group and dizis translated in English there… So, I have watched them… Sometimes with or without subtitles but always with the same interest… During one year I have watched many Turkish series and movies.
I have been deeply moved by the content of this industry. Far from clichés and received ideas, I have been impressed by the incredible quality of the productions, both by the level of the resources committed and the aptness of direction and outstanding acting performances.
But I had only one question in my mind… How France and others countries from Western Europe were so closed to this industry?
I convinced Lydie (Vessela), my friend to interest and watch with me, and during many months, we thought about the best way to develop a new concept which could change mentalities and interest French market. We were convinced about the potential of this industry. During these 3 last years, I have also noticed the growing interest of French fans on social networks with a stronger community every day.
That's why we had decided to launch our own specialized film distribution company. Thus, we wished to highlight this industry for both French & Turkish community and film lovers, curious and eager for new experiences, as we continue to be.
After have worked a strong concept during many months, and 2 journeys in Istanbul to meet Turkish professionals, MAVIJAAN was born in June 2019.
Yes, we did a particular choice. I know it's not the easier way but I'm someone of determinate, passionate and I love the challenges. When you are passionate you act with your heart.
I'm very proud to give my energy to support such industry.
Also, MAVIJAAN is a full concept around Turkish and Eastern cinema and audio-visual content.
We have many projects not only film distribution.
– I attach great importance to the fact that Mavijaan was founded with a public funding support. This shows the presence of a French-speaking audience who is curious about Turkish cinema and wants to watch in movie theaters or digital media. Why did you choose such a method?
Lydie and me had limited personal financial support so crowdfunding was for us the best way to raise necessary money to launch our company and release our first movie "Aşk Tesadüfleri Sever 2" in last February. (Mavijaan has organised the premiere of Aşk Tesadüfleri Sever 2 in Paris in February 2020. You can watch some videos here https://www.youtube.com/mavijaan )
Unfortunately release of the movie in France has been compromised with Coronavirus crisis and the closure of movie theatres. Also, Lydie has resigned from Mavijaan last February but nothing has changed for me.
This project was not only ours but the project of all French-speaking community fans. It was important for us to federate this community and all people who followed us with Bollycine France. There is an interesting link between French fans of Indian cinema and Turkish cinema and "dizi"s. As a continuity. Also, people knew we were serious and able to manage any challenge.
I am happy with the success of this campaign. I think to launch a second campaign this summer for the launch of digital platform.
– How would you briefly define Turkish cinema in terms of content and form? And why Turkish cinema is "blue" according to you?
I copy you the meaning of MAVIJAAN that perfectly sums up the answer to your question.
Also, I think have also replied to this part in the first question.
We wanted a name that connects both our earlier experience with Indian cinema and this new adventure with Turkey.
MAVI means blue in Turkish. JAAN means life in Hindi but can also be written like Can in Turkish, with the same pronunciation. Life in blue… MAVIJAAN
We often speak of life in pink as all flaws are deleted, ideal, far from reality. A life often brought to the screen. What hit us when we discovered Turkish films and series was the great mise en scène of everyday reality with all its difficulties. The very detailed psychology of the characters shows us their faults, flaws and the struggles they are going through which make them grow and transform accordingly with their experience.
Turkish cinema and more broadly series are a tribute to life with all of its beauty and complexity, and they draw a realistic portrait of human relations, far from the clichés and superficial stereotypes.
According to examinations our injuries shape our behaviors. We would not be who we are now without the obstacles that life makes us endure. This brings us a better understanding for human behavior, and therefore, for ourselves. How can we not be touched by these stories that everyone can identify with?
Life is away from being pink but it's not an excuse for seeing it black either.
So, let's take life in blue… the blue color of truth, understanding and appeasement – in order to positively transcend each difficult event and accept them to move forward.
The BLUE JAY emblem on our logo embodies this clarity by combining protection and confidence.
MAVIJAAN will inspire this new perspective against the world through a unique journey to the heart of the Turkish film and series industry.
SEE THE LIFE IN BLUE….
– As your area of interest, you count not only motion pictures, but also Turkish short films, documentaries and even TV series. You also have a VOD project, right? At what stage is that project?
Yes, the VOD project is in development. The launch is planned for October.
It will be the first French digital platform VOD (Mavijaan Digital) specialized in Turkish and Eastern content (with movies, documentaries, shorts, animation and later "dizi"s).
In parallel, a special and large section will offer additional content to introduce professionals from Turkish industry to French audience.
Platform will be open to France, Belgium, Switzerland and Luxembourg to start.
– How do you think the pandemic has had an impact on the rise of digital platforms? Weren't these platforms already a big part of our lives? Can we say that movie viewing habits have changed permanently, or will Movie Theaters be resurrected?
It's clear that with coronavirus crisis, I had to reprioritize my projects and it was an evidence to focus on digital platform this year. I don't think release a movie in theatres this year.
The pandemic has permitted to interest a different audience: people who was not interested to digital platform before crisis. Something very interesting has happened with "7. Koğuştaki Mucize" all over the world and in particular in France. It was the movie the most watched on French streaming platforms during lockdown with 1.658.399 viewers. I think it's an extraordinary indicator to show potential of Turkish movies. Many French famous people have shared their feelings about this movie. There were so many articles in French medias… It's really interesting to see reactions of French audience…. It was a real chance for the movie to reach French audience.
This is the top 10:
7. Kogustaki Mucize (Netflix) – 1 658 399 streamers
La Plateforme (Netflix) – 1 370 222 streamers
Tyler Rake (Netflix) – 945 389 streamers
Mensonges et trahisons (Netflix) – 762 598 streamers
Forte (Amazon) – 729 568
Code 8 (Netflix) – 648 708
Spenser Confidential (Netflix) – 644 732
Le Roi Lion (myCANAL) – 561 889
Vaiana, la légende du bout du monde (Disney Plus) – 546 524
Lost Girls (Netflix) – 515 440
Yes, digital platform took yet a big part of our lives but I think Movie Theatres will regain its place later. It will take time. But nothing can replace this special feeling to watch a film in movie theatre. Movie theatres and digital platforms can be perfectly complementary.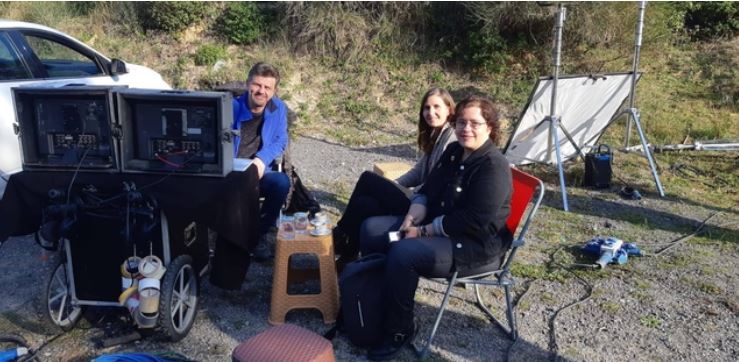 Sarah Beauvery Joguet, during a visit to Turkey.
– Are the judgments of French-speaking peoples about Turkey and Turkish culture really very negative? How do you think Mavijaan can contribute to establishing cultural bridges and strengthening mutual understanding among peoples?
Yes, I must admit that Turkey and Turkish culture are really misunderstood and underestimated in our country. Before I get interested to Turkey and understand the culture, I had also prejudice and clichés so I felt bad at the beginning. Unfortunately, medias have spread this negativity and it's difficult to think differently if we have not a certain curiosity and an open mind.
That's why, it's really important to encourage cultural exchange for understanding. I wish that MAVIJAAN becomes the cultural bridge between our 2 countries. I think it's possible to change mentalities thanks to the culture. I have built all the concept of MAVIJAAN around this idea. For example, beside the content, MAVIJAAN DIGITAL will give the floor to Turkish professionals who make film and series industry. It's the best way to introduce them and make their approach understood to French audience and French film industry too. I have also other projects to encourage meetings between our two film industries and so much other things I can't unveil now.
Also, I'm the perfect example to show it's possible to change opinion. I like use my own experience to interest people and change mentality about Turkish culture. It works!
I wanted add that all Turkish people have always been so nice with us. We have still received a great consideration by all professionals and some have become valued friends. It's a great honor to receive this trust and to feel supported. I have the feeling to have found what I had been looking for years.